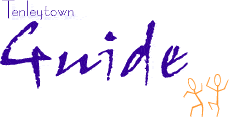 Tenleytown encompasses the business district along Wisconsin Avenue from (about) Upton Street to Fessenden Street, and the surrounding residential neighborhoods.
A writer in Salon magazine, describing his visit to one of the neighborhood's more unusual businesses, characterized Tenleytown as "a trendy shop-and-cafe zone a few miles north of downtown Washington;" it's a fair description.
Indeed, Tenleytown has one of the more eclectic mixes of shops and cafes in town. You need not leave the neighborhood to buy rare cigars, obscure golf supplies, and rugged outdoor gear. You can get a winter tan, learn a foreign language, or -- maybe -- have an out-of-body experience (see link in previous paragraph). If you fall ill, Tenleytown has holistic healers and acclaimed chicken soup with matzoh balls. If all you need to feel better is caffeine and conversation, the neighborhood sports at least three cafes.
HISTORY
Tenleytown has been around for a while. Eighteenth-Century locals called the place "Tennalytown," after the roadside tavern run by a John Tennally.
During the civil war, the neighborhood -- then known as Tenleytown -- hosted a strategically important military installation, Fort Reno. Built on Washington's highest point (429 feet), Fort Reno was the largest and strongest of a string of forts encircling the city.
In July of 1864, the fort saw action when General Jubal A. Early led 22,000 Confederates against the 9,000 Union troops guarding Washington. For the most part, the battle unfolded just across the District line in Bethesda and Chevy Chase, but some close-quarters fighting seems to have occurred in Tenleytown and the surrounding area.
After the war, Tenleytown became a home for freed slaves. Residents of the surrounding area decried Tenleytown as a slum, and the District eventually razed much of the area as an early exercise in "urban renewal." Wisconsin Avenue at one point was home to large, attractive wood framed houses, but they eventually were demolished or moved to make room for commercial development.
LIVING IN TENLEYTOWN
According to the 1990 Census, 31,042 souls reside in Tenleytown's 20016 zip code.
Many younger members of that 31,042 attend one of the neighborhood's public elementary schools, Janney and Murch. Local parents hold both schools in high regard. Tenleytown is also home to Woodrow Wilson Senior High School.
After school, young people, and their parents and dogs, can play in several fine neighborhood parks. "Turtle Park" has achieved what can fairly be termed a cult status in and around Northwest D.C. On nice days, children and parents pack Turtle Park and take full advantage of its pint-sized train, castle, and tree fort. (Not to mention the turtle and her progeny.)
The National Park Service administers two large parks in Tenleytown that once were forts guarding the Capitol. The aforementioned Fort Reno Park features steep hills popular for sledding. Fort Bayard Park has more gentle hills that younger children like for sledding. The park also contains a play area for younger children, and a softball field. Neighborhood residents have formed the "Friends of Fort Bayard Park" association to help the Park Service improve the park.
Tenleytown is also home to American University, incorporated by an act of Congress in 1893. The university has programs in arts and sciences, law, public affairs, and business, among others. The University's radio station, WAMU, 88.5 FM, broadcasts a mix of public affairs and non-mainstream music, including a fine bluegrass show on weekends. If you have a house or apartment to rent, you can have the university's off-campus housing office list your property by e-mail. The university hosts many cultural, sports, and education events that are open to the public.
If you want to educate yourself without paying tuition, the Tenleytown branch of the D.C. Public Library may be your speed. The branch is stocked adequately for adults and abundantly for children. Community groups can use the conference rooms at the library for meetings.
GETTING TO TENLEYTOWN
Tenleytown is served by Metro's Red Line, with a stop at Wisconsin Avenue and Albemarle Street.